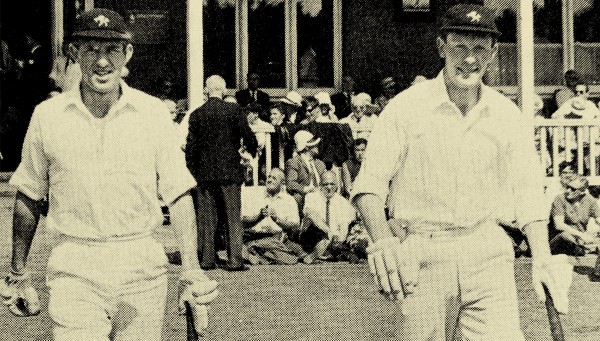 Who are we?
The Denness Luckhurst Foundation was established in 2014 by the children of Mike Denness and Brian Luckhurst to raise money for charities in their memories.
We again supported the Lord's Taverners and  Mercy Ships by way of a charity golf day at Sundridge Park Golf Club, Bromley on the 11th September 2017. Over the last 3 years, we have raised £45,000 to support our chosen charities.
Our 2017 event raised £17,000, what an incredible day and we can't say a big enough thank you to everyone that joined us as well as our main sponsor, Santander Consumer Finance and other sponsors, who made it all possible. We handed over the £8,500 cheques to The Lord's Taverners and Mercy Ships at Lord's and the sun was even out for us! Roll on our 2018 golf day!
Santander sponsors the 2017 charity golf day
Our fundraising efforts are only as successful as our supporters and we were delighted that Santander Consumer Finance agreed to be the main sponsor of our 2017 charity golf day.  Stewart Grant, Commercial Director at Santander Consumer Finance said
"Corporate Social Responsibility is at the heart of our business. We look for long-term partnerships with local charities through which we can deliver a sustainable difference to our community, and we are also active with larger organisations that are close to the hearts of our people. We feel a synergy with this foundation, through their determination to support their two beneficiaries, Mercy Ships and The Lords Taverners, who between them impact the lives of many thousands, both in the UK and abroad.
We are proud to help the Denness Luckhurst Foundation make their charity golf day a huge success."
What we do
Our fathers were extremely motivated individuals and great supporters of charitable causes. We wish to combine those attributes and in their names, raise valuable funding for two very worthy charities – Lord's Taverners and Mercy Ships.
2014 saw us hold our first event, a charity golf day, where we raised £15,750 for our charities. Our second golf day in 2015, raised a further £12,500, which represents an even better achievement given we didn't receive the same corporate sponsorship as in 2014.
"So much hard work and effort goes into creating such a wonderful event. It's when you see the difference that it makes to our charities, and the great outcomes that it funds, that you are so proud to be part of the Denness Luckhurst Foundation. I'm sure that our Dad's would be chuffed with what we have done in their names" Tim Luckhurst– DLF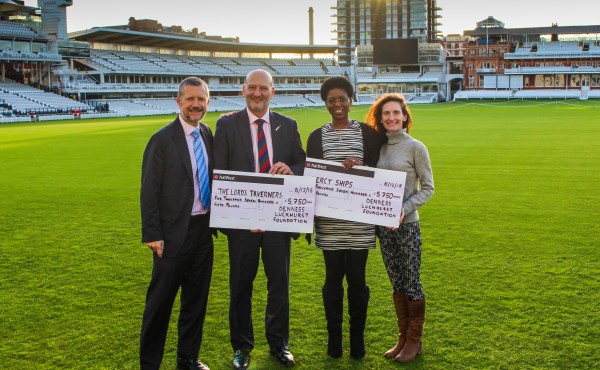 The cheque handover at Lord's Cricket Ground for 2015's event.
Why it all began
M H Denness 1939 – 2013
B W Luckhurst 1939 – 2005
Mike and Brian played a significant proportion of their cricket together at Kent, where they opened the batting and enjoyed significant success. The "glory years" of the 70's saw Kent win 10 domestic trophies, dominating the new one day format of the game.  In 1972, Mike took over the captaincy from Colin Cowdrey.
Their commitment to Kent Cricket was later recognised when both men fulfilled the role of President for the Club, Mike in 2012 and Brian in 2004. Perversely, they both died prior to concluding their year in office.